About Klaserie Nature Reserve
If you are searching for a unique safari experience, then Klaserie Nature Reserve is the place for you. Klaserie is part of the Greater Kruger National Park and borders the Timbavati Game Reserve and the Kruger National Park.   Wildlife roams freely across Klaserie which means that you are likely to see a wide variety of animals during your stay, including the Big Five; the African elephant, African lions, Cape buffalo, black rhinos and African leopards.   There are hundreds of different and amazing species of animals, such as the cheetah, wild dog and 200 other animal species indigenous to the area.   This reserve offers guests with a penchant for discovery and exploration plenty of instant access to a host of game trails and vehicle loops, as well as setting the tone for those who choose to unwind with a glass of wine at the pool while the evening rushes by them – there is something for everyone here.
Excellent Viewing

Excellent game viewing opportunities of the Big Five, other wildlife and offers an array of bird life for bird lovers too.

Game Drives

Open vehicle game drives are available and included with experienced game rangers.

More Opportunities

Special night drives and unique walking safaris are offered for even more game viewing opportunities.

Highly Rated Lodges

Several lodge choices are located on the reserve, and all are well-regarded and highly rated.

Convenience Packages

Most travel packages are all-inclusive for complete convenience.

Based on millions of reviews we've been awarded one of the Top 10% Attractions worldwide!

Tripadvisor Travelers' Choice 2020
Activities Spotlight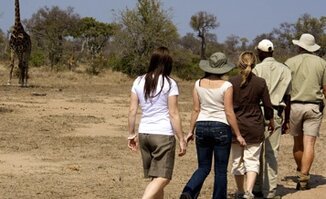 Walking Safaris
Visitors may head out on foot with their armed ranger. The perspective of the bush is entirely different to that of a vehicle, and guests will learn to read the signs of the wild, and perhaps come into close contact with the different animal species on the reserve.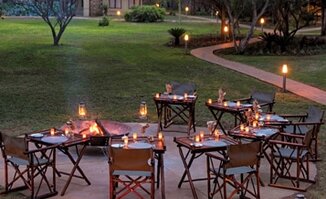 Boma Dinners
A safari holiday in Klaserie is filled with a number of exhilarating experiences during both the day and night. Returning to your camp after that you are greeted with the enticing sight of beautifully presented dining tables all encircling a roaring fire.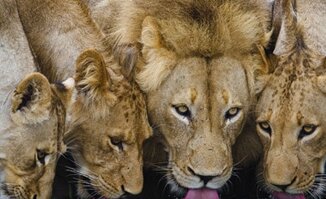 Game Viewing
In national parks and some other reserves, rules prohibit leaving the designated safari paths. But the wildlife are not always considerate enough to stay nearby. Get better vantages (and better photos) by heading off-road on a game view.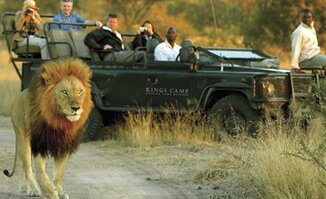 Game Drives
Game drives are interpretive drives in the bush specially adapted four-wheel drive vehicles, with the purpose of finding wildlife in a natural habitat. Rest your feet while going deeper and farther than you ever thought possible for up-close game encounters you won't believe.
Night Drives
As the sun sets over the horizon, the African bush is awash with colours and sounds. The evening dawns and the nocturnal animals come out from their sleeping spots. Night time is when new adventures are to be had while on night game drives.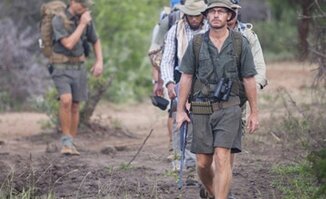 Game Walks
Volunteer Tourism gives you the chance to experience the wildlife and beauty of one of South Africa's top safari destinations, the Klaserie Private Nature Reserve, while also getting more involved in the African bush and the finer details of your surroundings.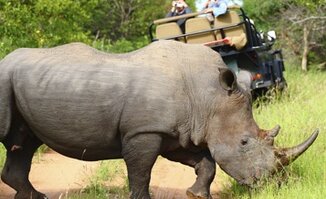 Rhino Tracking
Rhino tracking in South Africa is a very popular event. South Africa offers you the finest opportunities to go rhino tracking through an abundance of magnificent wilderness. Rangers and tracker team will help and attempt you to track your favourite animals.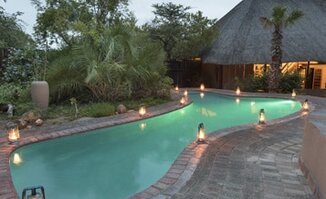 Swimming
The best way to end the day is to swim in a pool, with spectacular views of the unspoiled landscape surrounding. The swimming pools are well situated for both bird watching and game viewing, whilst cooling off with a refreshing drink in hand.
Wildlife
Situated near Hoedspruit in Limpopo Province, the Klaserie is one of the top wildlife safari destinations in South Africa. This region between the Drakensberg and Kruger National Park is rich in species diversity and is also home to all of Africa's large mammals. The variety of Fauna and Flora found in this region include about 500 species of birds, more than 118 reptile species, more than 30 amphibians, more than 235 grasses, more than 336 tree species and several thousands of insect species. Besides these, there are more than 50 species of fish and more than 145 mammal species. Wildlife wanders freely over vast areas and you are likely to see all the usual animals of the African bush including lion, elephant, rhino, leopard and many antelopes.

Get Our Best Rates
Let Us Help Plan

Your next Vacation